RememberStuff® is an integrated, easy-to-use, premium system experience that was designed to support loved ones in their determination to live independently and stay connected with family and friends.
RememberStuff® provides users with a Calendar to help them remember appointments and important events, a Remember section to help remember how to perform some of their favorite tasks, Messaging to maintain close connections with loved ones (both video and text), as well as Activities like quizzes and memory games.
And yet this is just the tip of the iceberg; these are just the tools within RememberStuff®.
RememberStuff® can play a pivotal role in enhancing the quality of your loved one's life as part of a comprehensive solution along your journey.
Calendar
The Calendar is easily accessible and can give visual and audible alerts, designed to help your loved one stay on track and feel more in control of their day.
Notifications and reminders of upcoming events may include:
Medical Appointments
Birthdays
Activities
Family and Friend Visits
Medication Reminders
And More!
Messages
Audio or visual messages provide an easy way to engage meaningfully with loved ones, and they can be listened to or watched over and over. Relive old memories and create new ones!
You and your loved one can:
Message Family and Friends with Text, Video, or Voice.
Review Messages as often as you'd like.
Send and Read Messages on your Schedule.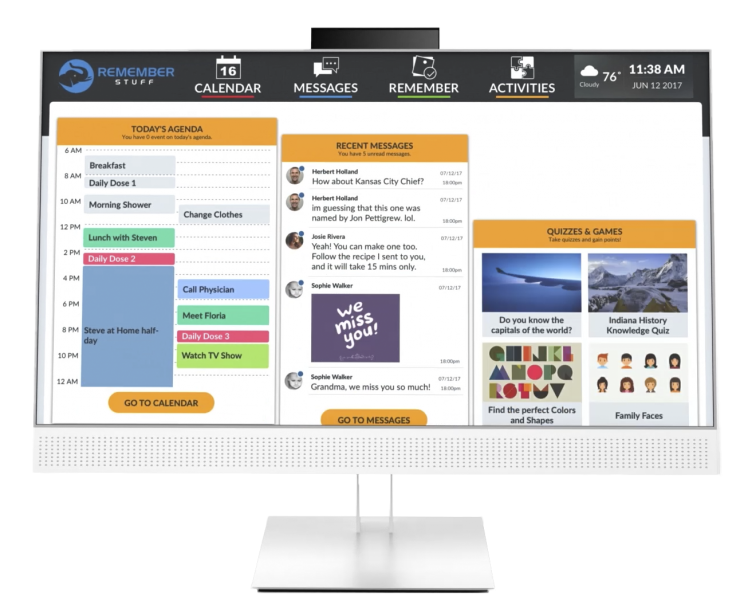 How RememberStuff® Works
The brains of RememberStuff® are built right into a high quality, stand-alone desktop touchscreen. There is no mouse, no keyboard, and nothing else required for setup; just plug the device into the wall outlet and connect it to Wi-Fi. Please note that Wi-Fi must be available in the building to utilize this technology. That's it. You can also choose either a wall mount or desktop model.
Our goal with RememberStuff® has always been to offer a stress-free experience. Indeed, most of the entire reason for the existence of RememberStuff® is to remove stress for both users and caregivers.
We've worked hard over the years to ensure that the device we built would not require any training, guesswork, or prior (or remembered) computer experience. Every day and in every way, our motto was "keep it simple."
When the device powers on, it will always bring up the RememberStuff® main page, the Calendar, from which the user can then engage the entire system. There are no extra programs or options for people to get lost inside.
Designed for use by your loved one at home or in a care community, RememberStuff® can be customized to the individual's current and future needs. Get ready for a premium experience, with its high quality, commercial grade stand-alone touch screen, and customizable software. There are no messy wires to figure out or trip over, either!