"RememberStuff® is NOT a Computer, Not a Monitor; It's a Helpful Reminder!"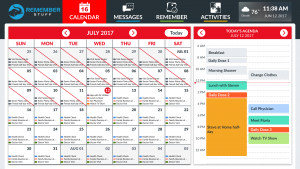 As the older adult with signs of dementia loses their cognitive function, support from others becomes increasingly important. Family members are often the ones who fill the gaps of support, mainly through increased involvement and supervision, management of care, in-home services and for some, hands on care. Today, technology solutions have been proposed to meet the needs of persons with memory loss and the needs of their caregivers.
Let me tell you about one such device. RememberStuff® was created and designed to keep open the lines of communication between the person with memory loss and their family/caregivers. The overall goal of this specifically designed technology is: to provide support to the caregiver when they can't be at home with their family member; reduce caregiver stress and burnout from trying to do too much at once; meet the needs of the older adult with memory loss; and keep the person with memory loss as independent as possible for as long as possible. The person experiencing memory loss longs for that sense of control over their day and does not want to burden family with helping them stay on track 24/7.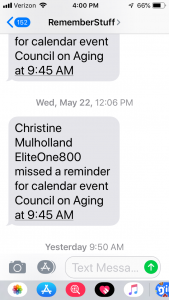 Unlike other monitoring devices and communication solutions available in the market today, RememberStuff® is easily customized to meet the daily needs, questions, and required actions of each person using the unit. It is available 24 hours a day and does not rely on an outside system for operation and it requires no computer skills to operate its touch screen function. RememberStuff® provides the ability to securely chat using the unit's camera as well as the ability to create and play "stored" videos messages to provide encouragement, reminders, instructions and more to those experiencing memory loss.
The best part of this technology is all data is customized to this one person with dementia, it is all in one place so need to hunt for another device or password to use another device and the videos are familiar voices sharing directions or reminders, so users are more likely to comply with these requests for action. RememberStuff® is a connection and not just a device, it is like being there even if family is many miles apart. For more information about this senior specific program to help family members stay on track and connected, please review the product description at our website: www.rememberstuff.com. Details about product operations, user and family support stories, and the on-line unit purchase page are available on the website.
RememberStuff® is more than a computer; it is a friendly, easy to use and lean on anchor to keep users on track as they navigate this latest challenge of their life's journey! By Mary Ellen Mullholand